The Bunny Fetish
Well, it seems as though I've sparked some interest by mentioning The Bunny Fetish so I'll explain...............................................
First you'll need to meet Romeo.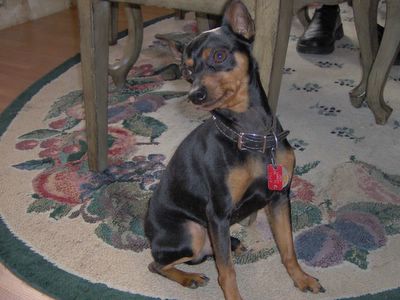 '
Romeo is my little MinPin, my baby boy, my first child.
When we moved here to MASS, we could not find an apartment that allowed dogs. So my Mom and Dad took our little Digdog to live with them. Oh and I should explain the name...Of course his name is Romeo but over time we called him The Rome Diggity Dog, later shortened to Digdog.
(Also funny story while I'm thinking of it. One day Digdog got loose and ran away and my Mom wondered around the neighborhood (aka The Borough) for hours screaming "Romeo, Romeo, where are you Romeo!" Hehehe I bet all the neighbors thought she was a looneytoon. LOL. But the Digdog was found and all was good.)
Moving on.......
So we moved to Mass without our Digdog. This made and still makes all of us very sad, he
IS
part of our family. Myself and the girls are coping with it rather well, Big Daddy on the other hand, well...let's just say he needs something to fill the void...hence, The Bunny Fetish.
Ok, so the apartment that we moved into allows just about everything but a dog, they allow cats, fish, birds, just about anything that can be caged like rodents and lizards and hermit crabs, anything but a dog.
So Big Daddy decides that we need a pet. Big Daddy also decides that it needs to a bunny.
Now, I believe this is because I absolutely skeeve cats and refuse to have one. I also believe this is because Big Daddy hears the stories of my bunny, Babs, that my family had when I was younger. Babs, was given to us by my great uncle when he started getting sick and couldn't take care of her anymore. My uncle was widowed for almost 10 years before he died and he had Babs. He litter trained Babs. Yes, Babs was litter trained much like a cat. She would roam our house and greet company and poo in a litter box. I believe that there will never be another bunny like Babs ever again in the whole world because no one will ever have the time and patience and any idea how to litter train a rabbit ever again.
What Big Daddy also does not realize, is that Housewife is a very busy lady. She does not have time for a pet, a new pet, of any sort, that needs to be trained. When we move and hopefully get the Digdog back, that will be OK, because he is trained. Also if we get a bunny, I do not think Digdog will take very well to it.
Again, Big Daddy does not care...he wants a bunny. He spends his time at home calling pet shops to see if they have lop eared bunnies, if they do we go see them. He stops a this bunny farm to and from work to play with the bunnies. He giggles like a school girl when we sees bunnies. He has brained washed Isabella into wanting a bunny. They both give me the puppy eyes when we are standing at the pet store or at the bunny farm without saying a word I can see their eye screaming "Please Mommy, Please Mommy, can we take it home?"
And although it sounds nice and it would be fun to have a bunny hopping around, I know as wise woman that the novelty will wear off. And Housewife will have a stinky, non-litter trained bunny to care for when every one else has no interest in it anymore.
I promised Big Daddy, that if we buy a HOUSE in VA, when we move there next, MAYBE I'd seriously think about the bunny, because if it doesn't work out at least I'd have a yard to put the bunny in. Outside. In a cage. Where people can go OUTSIDE to see the bunny. And it won't stink my house up.
In the mean time, I will put up with Big Daddy and his little rendezvous with the bunnies at the bunny farm.
-Housewife